To discuss the needs of your project, or for more information, please send me a message by clicking on this link:  VoiceOverPrime@aol.com
Please include your name, phone number, and a time when you can be reached in your message.
Thank you.
- Jim Collymore
© 1997, 2018 James L. Collymore - All Rights Reserved
Various "Character" Voices
Sizzle Reel (Short Version)*
Sizzle Reel (Long Version)*
Miami FM Radio Ad (Partial)
Admiral Glaive (Me) vs. Admiral Scott - "Silent Threat: Reborn" (Video Game)
Historical Character
(Museum Tour, City of Alton, IL)
"Spinning the Soul 7"
(YouTube Commercial)
* Please note: Fictional scripts written by me, and copyrighted material under my name, as examples of my copy writing skills.
All other recordings and scripts used here are copyright of their owners and used here with permission.
** Listed on IMDb.com
Jim Collymore
Voiceover Talent
Are you looking for a versatile, American-english voice, free of regional accents; for commercials, tags, video games or online training? Then look no further. Having done on- and off-camera work for several large corporations such as Johnson & Johnson, and M&M/Mars; as well as radio ads, video games, online training, and a museum tour, I can provide you with a voice that will grab your target audience's attention.
Are you working on a script and need some help with ideas? I have over 25 years of experience in the corporate world, with much of it in developing courses, classroom training delivery, and project presentations. Just the experience to help you "wordsmith" that script you've been working on to give it the positive impact you're looking for.
Check out my reels/demos, for examples of some of my scripts. And look for me on IMDb.com.
I look forward to working with you on your next project.
As with any voiceover project, rates depend on several factors:
     •  the nature of your project, (e.g., broadcast, non-broadcast, cartoon,
commercial, tag, etc.)
     •  where the recording is to be used, (e.g., radio, TV, online, local, national,
etc.)
     •  the running time of the script,
     •  the length of the script, (i.e., number of words)
     •  how quickly you need turnaround.
My rates include two re-takes for minor issues (e.g., pronunciation, grammar, or vocal issues), or for minor revisions to the initial script, at no extra charge.  Major revisions, additional scripts, additional revisions after script approval or the final recording has been submitted, will be charged at my hourly rate.
I can provide recordings in the most common formats (.mp3, .wav, and .aiff).
(Recordings are 44.1kHz, 192 kbps, mono.  Other recording settings may also be possible.)
Generally, turnaround time can be provided in 24 hours once I am given the final, approved script. Recordings will be sent digitally. (Shipping of a CD with the recordings for the project will carry an additional $25.00 charge, and will add to the turnaround time.)
If you'd like to explore the rates for your project (I am always open to negotiation), please contact me.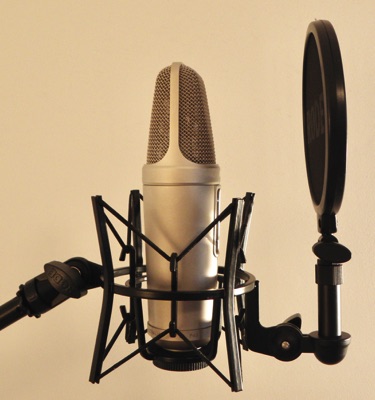 Admiral Bei - "Blue Planet: Age of Aquarius" (Video Game)
Command - "Between the Ashes - Slaves of Chaos" (Video Game)**
Online Training (Chemistry)